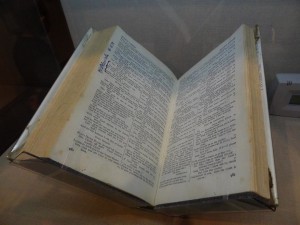 The list of "sights seen" on my recent trip to Washington DC includes a substantial number of important texts, ranging from the Constitution and Declaration of Independence, to the first map to actually call this part of the world "America," to one of the original Gutenberg bibles.  However, the text that made the greatest impression on me during our visit was much less notable, and certainly less known than the others.
I came across this text, called the Robben Island Bible (or Robben Island Shakespeare) at the Folger Shakespeare Library.  I became familiar with Folger during my undergraduate studies, and was therefore interested in visiting the research library, located near the US Captiol on Capitol Hill.  When my entrance into the building one morning, followed by two other college-aged girls provoked the woman at the desk to exclaim "Wow, this is a busy day," I deduced that this research library was not exactly a highly-frequented tourist destination.
The woman then went on to describe some of the more notable holdings of the library, finishing with what she called "our treasure," or the Robben Island Shakespeare, on loan from the British Museum.   Apparently, Robben Island is a small Island off the coast of South Africa that has historically been used to imprison political and other prisoners.  One of the apartheid-era prisoners of the 1970s, named Sonny Venkatrathnam, apparently had his wife send him this Shakespeare's collected works disguised as a religious text during a brief period when prisoners were allowed one book.  Venkatrathnam read and shared his collection with his fellow prisoners, more than thirty of whom signed the book next to their favorite passage.
Among the signatures is Nelson Mandela's, who signed next to the passage in Julius Caesar which says, "Cowards die many times before their deaths; / The valiant never taste of death but once."
I found the story inspiring, both as a testament to the lasting and varied relevance of Shakespeare's words, but also as another piece of evidence of people persisting in maintaining their humanity in situations meant to strip them of it.   Definitely a sight worth seeing.