One morning about a month ago as my Nielsen men were headed out the door for work/school, my husband called me to the door to see a "surprise" waiting there for me.  What I found was this graceful creature: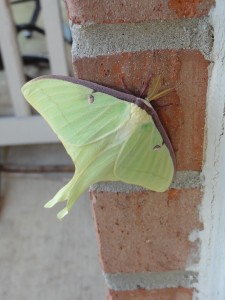 While anyone might find this a pleasing sight, I should, perhaps, explain why it is of particular interest to me. I may have mentioned that I am a Gene Stratton Porter fan, and along with being a novelist Porter was also something of an amateur naturalist.  Her appreciation for the natural world appears even in her fiction.  In perhaps her most well-known (and my personal favorite) novel, A Girl of the Limberlost, Porter's heroine earns her way through an education by collecting and selling natural specimens, particularly moths, from the Indiana Limberlost swamp where she lives.  So, while I have had an affinity for creeping things since childhood, my acquaintance with Porter's novels has romanticized them for me.
I spent a certain amount of time that particular morning, even after the boys had gone, studying and photographing my visitor, expecting that when I opened the door again it would be gone.  I was wrong, however, for when I next left the house, I found the moth remained.  The boys and I continued what became a hobby in the next few days–this constant checking to see if our moth was still in residence.  It had occasionally moved a few inches, but for about five days it stayed on our porch.  The day we came out to find it finally missing left us with a real, but fleeting disappointment.  It didn't take us long to forget about our visitor altogether.
Yesterday, in a moment of random thought I remembered our moth, and developed a sudden curiosity to identify it.  One brief online search led me to discover that our friend was, in fact, a Luna Moth.  The name alone was an exciting one to me, as it is one of the moths featured in A Girl of the Limberlost, but as I began to read the fine print my interest grew.
Apparently, Lunas are one of the largest moths in North America.  They are not necessarily uncommon, but seeing one is very rare as the creatures generally only live for up to 7 days.  They do not have mouths or eat, they simply emerge from the cocoon, reproduce, and die.
My seven-year-old has a recent interest in unusual animal facts.  A couple of weeks ago while he was astounding us with strange and amazing tidbits of information he was finding in an animal book, he shared that may-flies, similarly, do not eat, but merely live to reproduce and die–their lifespans sometimes being as short as a few minutes.  This spurred me into some thinking and raised a number of questions in my mind (and not just questions of the validity of a life with out eating–although that was definitely among them).  I wondered what function could this creature possibly serve?  What was the point of a life so brief, that was bound to go unmarked.  What was the purpose of a creature that lived merely to create more useless creatures before passing into oblivion.
Yet, here, as if in some kind of answer was the Luna Moth on my porch.  Here was this beautiful, unique, delicate creature that spent what was probably the majority of its life resting at my door.  This visitor in its still, quiet way made me think, and brought me a measure of simple joy. And while I recognize the arrogance in the thought that any of God's creatures exists merely to give me pleasure, I can say that this creature's life, however brief, meant something to me.  I don't intend to forget it.